Feedscrews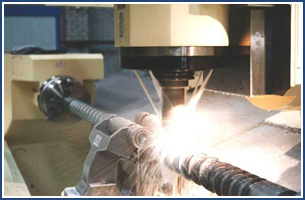 CNC Single Screw Manufacture
Screws form the heart of Extrusion and Injection Moulding Machines and today's polymers demand that the utmost care be taken to produce feedscrews with a degree of accuracy that provide reliable performance.
In 1990 we introduced a 5 axis CNC Extruder Screw Milling machine to our manufacturing facility.
This machine represented a leap forward in the precision manufacture of single screws and is the only machine of its kind in the UK. The fully integrated C.A.D / C.A.M system enables the machine to replicate existing screw designs to the closest tolerances, whether manufacturing standard 3 stage extrusion or injection screws to the most complex infinitely variable pitch multi start polystyrene processing screws.
Screw manufacturing capacity 20 mm to 370 mm diameter 8 m in length.
Test certificated Nitralloy or High Tensile base materials used.
High quality corrosion resistant Stainless Steels and Hastelloy offered.
Through Hardened Tool Steels supplied on request.
Gas or Ion Nitrided and Flame Hardening give maximum surface hardness.
For corrosive polymers such as P.V.C Hard Chrome Plating is available.
Plasma Transfer Arc Hardfacing providing excellent wear resistance.
Standard nitrided screw Delivery typically 5 to 6 weeks.
Barrier and Hardfaced screws (including SV Special Barrier)
Delivery 6 to 7 weeks.

CNC Twin Screw Manufacture
In October 1996 Stanley Vickers installed a 7 axis CNC Extruder Screw Milling Machine representing an investment of one million pounds. This machine like the first is fully integrated into the company's sophisticated CAD/CAM system, primary function to manufacture Twin Extruder Screws.
It is only one of six in the world today and guarantees a perfect matched pair of screws every time.
Manufacturing capabilities of Twin Screws 30 mm to 200 mm total length in one piece 5 m.
Nitralloy or Tool Steel base materials are available upon request.
Ion or Gas Nitriding offered as standard to give maximum surface protection.
All flights can be Plasma Hardfaced with various powder technologies such as Colmonoy 56 , Stellite 12 or SVL 1215.
Hard Chrome Plating of screw channels offers protection against corrosive polymers.
Screws can be for co-rotational or counter rotating systems one piece or segmental.
Special design profiles for Werner Pfleiderer, Buss and LMP intensive mixing zones machined in absolute precision.
Improved Delivery over O.E.M typically 10 to 12 weeks.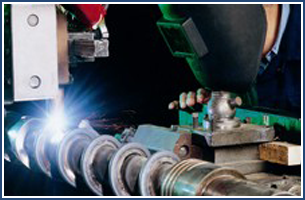 Screw Refurbishment
In 1995 Stanley Vickers completed it's participation in an intensive 4 year research program supported by the DTI known as the Environmental Technology Innovation Scheme (ETIS). The findings of this program resulted in exciting new hardfacing materials such as SVL 1215.
The Single and Twin Screw refurbishment service utilises a revolutionary new welding process exclusively formulated for hardfacing screw flights increasing wear life. The grade of powder technology can be varied to suit specific customer requirements using Plasma Transfer Arc.
P.T.A welding guarantees a continuous smooth fault free weld deposit along the screw flight greatly speeding up the process which hitherto was carried out manually. This process combined with the developments in hardfacing and extensive trials have proved to offer huge performance gains over sprayed coatings.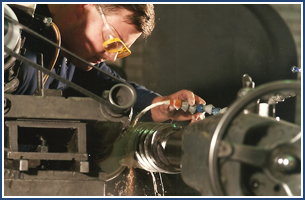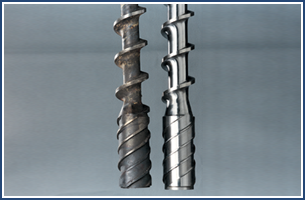 PTA Flight coating in Colmonoy 56, Satellite 1, 6, 12 and SVL blend of nickel or cobalt based alloy to suit required applications.
Single screw service offers flight refurbishment back to standard size or oversized to suit existing barrel.
Delivery of single screw refurbishment:
Up to 120 mm diameter 7 to 10 days.
Above 120 mm diameter 14 to 20 days.
Twin Screw service available for both parallel and conical machinery.
PTA hardfacing allows screws to be refurbished many times with ease and is more cost effective than expensive tungsten carbide coatings.
Screw Design Service
Stanley Vickers Limited offers the most comprehensive computerised screw design and customer drawing database system in the United Kingdom.
Numerous designs for standard 3 stage and vented reclaim screws processing materials such as LDPE, PS, PP and LSF.
Offer standard injection screws:- 3 stage , barrier flighted and improved mixing screws for PP, PVC and PET.
Blow Moulding screw profiles for Bekum, Battenfeld Fischer and Krupp Kautex.
SV Mk2 Special Barrier Feedscrew for high performance and improved melt temperature control.
This Barrier design is suitable for smooth bore feeding systems processing LDPE, LLDPE and mixes of both with LD ratio's from 24:1.
SV Mk3 Special Barrier Feedscrew suitable for grooved feeding systems giving an excellent homogeneous melt and output.
This type of feedscrew can process the most modern butene and octene LLDPE , LDPE and EVA materials based on LD ratio's between 24:1 and 32:1.
SV Mk4 Special Barrier Feedscrew for performance extrusion of HDPE.
The latest SVL feedscrew design suitable LD ratio's between 23:1 and 27:1.
Prototypes running on Alpine, Kiefel and MAM extruders.
SV barrier feedscrews can be retrofitted to existing machine types depending on the drive motor and control capabilities of the extruder.