Barrels & Liners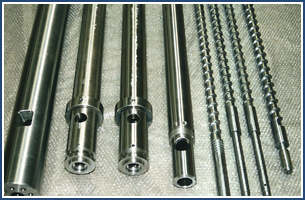 Stanley Vickers Limited supply high quality barrels, feed liners and water jackets for extrusion, injection and blow moulding plastics and rubber applications.
Considerable stock of Bi-metallic graded tubes at our factory.
7 to 10 days delivery on standard plain bore barrels from SVL stock.
Single and Twin parallel barrel capacity 18 mm to 275 mm bore.
6 metres long in one piece. Longer two piece units also available.
Precision Bi-metallic grades supplied giving superior wear and corrosion resistance over nitrided units.
Non standard and exotic Tungsten Carbide, F3 and H.I.P bore materials supplied to order.
Vent ports manufactured using high tech spark erosion methods.
Test certified EN41B nitrided barrels supplied at customers request.
A critical element in the effective performance of any screw and barrel combination is the feed liner.
Bi-metallic or nitrided bore finish.
Plain or grooved configuration supplied upon request.
Manufactured with or without water cooling jackets.
Barrel Refurbishment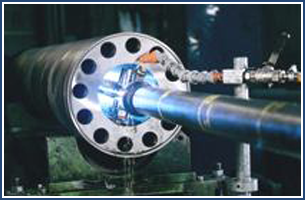 Our in house barrel refurbishment service provides an efficient and quality service, achieving precision tolerance honing on the latest vertical and horizontal machines.
Capacity 25 mm to 200 mm Bore.
Honing to standard or non standard sizes for existing, new or Stanley Vickers refurbished feedscrews.
Nitrided Single Barrels
Honed oversize and re-nitrided for maximum wear resistance.
Typical Delivery 7 to 10 days.
Barrel short sleeving using nitralloy EN41B. Sleeves are fitted utilising a liquid nitrogen shrinking process.
Delivery 2.5 to 3.5 weeks.
Bi-metallic Single Barrels.
Honed to clean oversize to a constant diameter.
Delivery 5 to 7 days.
Bi-metallic short sleeving available on request.
Delivery 7 to 10 days.
Nitrided Twin Parallel or Conical Barrels.
Offer barrel cleaning, re-nitriding and polishing to suit Stanley Vickers refurbished twin screws.