About Us
Stanley Vickers Limited was founded in 1947 serving the North East, with its general and marine engineering skills providing fabrication, machining, assembly of small and large plant and machinery.
By the 1960's Stanley Vickers Limited had diversified and now specialises in the manufacture and refurbishment of feedscrews and barrels for the Plastics, Rubber and Food Industries.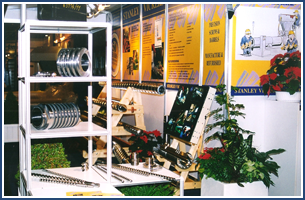 All components are manufactured in accordance to Quality Assurance ISO 9001 supplying multi national organisations, O.E.M's through to small packaging and moulding companies. Stanley Vickers Limited is the only independent supplier of feedscrews and barrels in the United Kingdom to have achieved this status to date.
The company invested £2 million on two unique special purpose "state of the art" CNC Extruder Screw Milling Machines. They still remain the only two of their kind in the United Kingdom.
Stanley Vickers has also invested in the Information Technology of today with both machines linked to an advanced CAD / CAM / CAMS suite, custom written for the design, CNC programming and production management of extruder feedscrews offering repeatability, flexibility and improved delivery over 0.E.M.
View Our Company Video